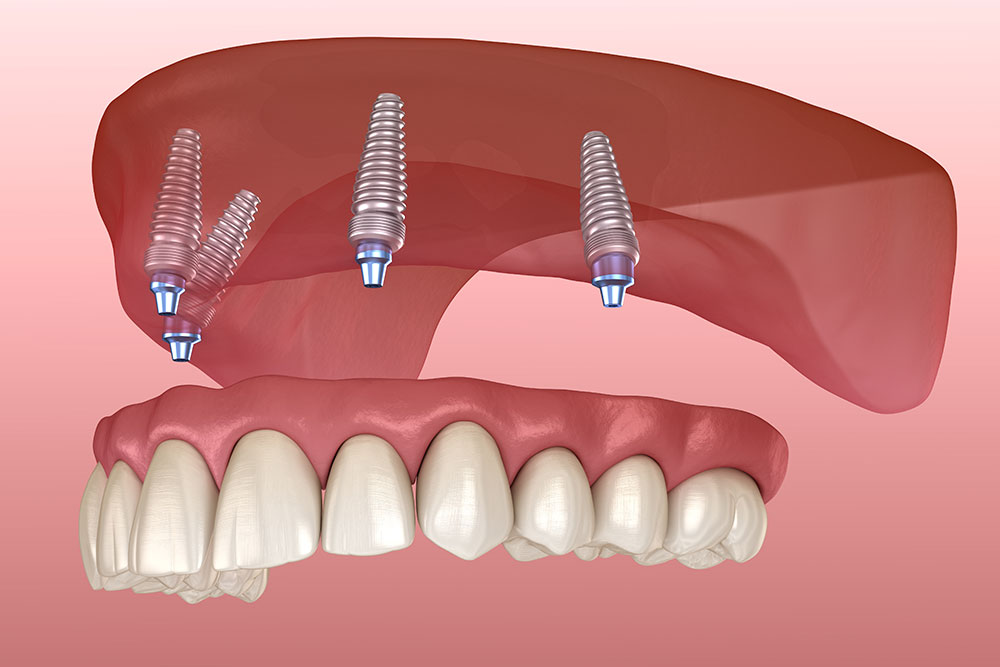 Eastpoint Dental works hard to make sure we provide you with the latest treatment options to prevent oral health problems, restore smiles, and replace missing teeth. If you are missing multiple teeth, you could benefit from an All-On-Four treatment option. This is an effective treatment option for implant dentures and implant bridges. Learn more about this treatment option below, and contact us to schedule an appointment with our team.
How Does All-On-Four Work?
As the name suggests, All-On-Four uses four precise dental implants to help you support fixed dentures. Without All-On-Four, you might need to get an individual implant for every tooth that is missing. This can be a tremendous amount of stress and might take a very long time.
Instead, we can place four titanium screws in your jaw and use them to support the rest of your missing teeth. The implants are extremely strong and very durable, so they might even last the rest of your life. With All-On-Four, you should find it is much easier to eat, talk, and sleep.
What Are the Top Benefits?
If you decide to go with All-On-Four dental implants, there are several significant benefits you will enjoy. They include:
Fast Results: As soon as the implants have been put in place, you should find it much easier to chew and speak. You don't have to wait a long time to see the results.
Younger Appearance: Because you should have a full smile restored, your appearance should significantly improve. You can also stop the process of facial deterioration, helping you avoid wrinkles and lines.
Normal Diet: Your eating habits should improve because you can eat what you want, when you want, where you want with All-On-Four. You don't have to worry about avoiding a public restaurant because of your oral health issues.
A Better Overall Quality of Life: With All-On-Four dental implants, you can enjoy a better overall quality of life. Your diet should improve, your health should improve, and your mental health should improve.
Easy To Care For: It is very easy for you to take care of All-On-Four dental implants. You simply need to brush and floss as you normally do.
For all of these reasons, All-On-Four dental implants could be right for you. It would be our pleasure to talk with you about this treatment option.
Smile Restoration With Eastpoint Dental
If you want to replace multiple teeth with minimal time in the dentist's chair, then All-On-Four could be right for you. At Eastpoint Dental, we will work with you personally to customize your treatment options to meet your needs. If you would like to learn more about how All-On-Four can help you improve your oral health, contact us to make an appointment at (614) 755-2275.