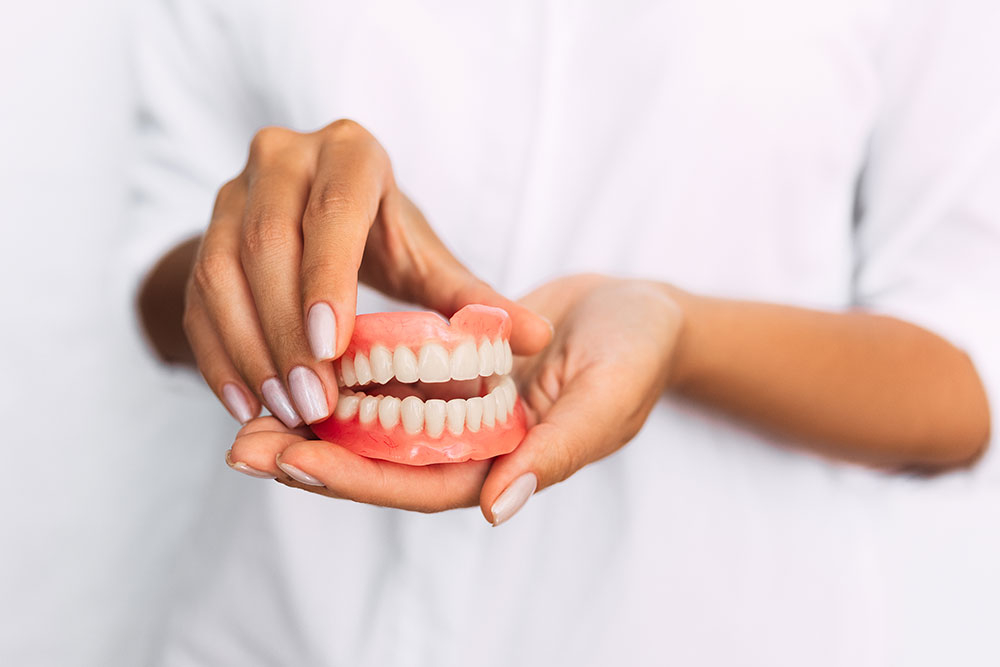 At Eastpoint Dental, we understand that it can be frustrating if you are missing one or more teeth. Our team focuses on restoration and replacement to give you a smile you can be confident with.
Fortunately, we have multiple treatment options available, including dentures. Every treatment has its benefits and drawbacks, and the right treatment option for one person is not necessarily the right treatment option for someone else. Take a look at some helpful information about dentures below, and reach out to us to make an appointment.
An Overview of Dentures
Dentures can help you if you are missing a few to all of your teeth.
Dentures come in two types. A partial denture replaces a few teeth and is held in by the remaining teeth. Metal bases and clasps are used for the connection, and acrylic teeth are used to replace your missing teeth.
A full denture is needed if you are missing all of your teeth. Complete dentures rest on your gums and rely on suction to stay in. Both of these prostheses are removable, meaning there is no permanent connection, and they must be taken out at night to clean and allow the gums time to breathe.
The Benefits and Drawbacks of Dentures
There are several significant benefits of choosing dentures. They include:
Aesthetic Appearance: Lots of people love the aesthetic look of dentures. They are a great way to restore an entire row of teeth, and they can provide you with a confident smile. They can also make your face look fuller.
Versatile: Many people are eligible for dentures. Even if your teeth are not in the best shape, and even if your jaw is a bit weak, you should still be able to use dentures.
Low-Maintenance: Dentures are very easy to take care of. All you need to do is give your dentures a quick rinse after eating. You should also place your dentures in a cleaning solution every night.
On the other hand, there are a few drawbacks to dentures. Some of the drawbacks to keep in mind include:
Replacements: Dentures do not last forever. As the shape of your mouth changes, you may need to get a new set.
Several Visits: You cannot simply walk into the office and order a set of dentures. We will need to work with you to find the best fit. It could take multiple visits.
Removable: Even though removable dentures are convenient, they can also make people feel self-conscious. There might be a slight clicking noise when you take them out.
We would be happy to work with you to help you find the right treatment option to restore your mouth's function and appearance.
Quality Dentures in Blacklick, OH
Dentures can be an effective way for you to replace one or more missing teeth. If you would like to learn more about dentures, contact Eastpoint Dental today to make an appointment at (614) 755-2275.