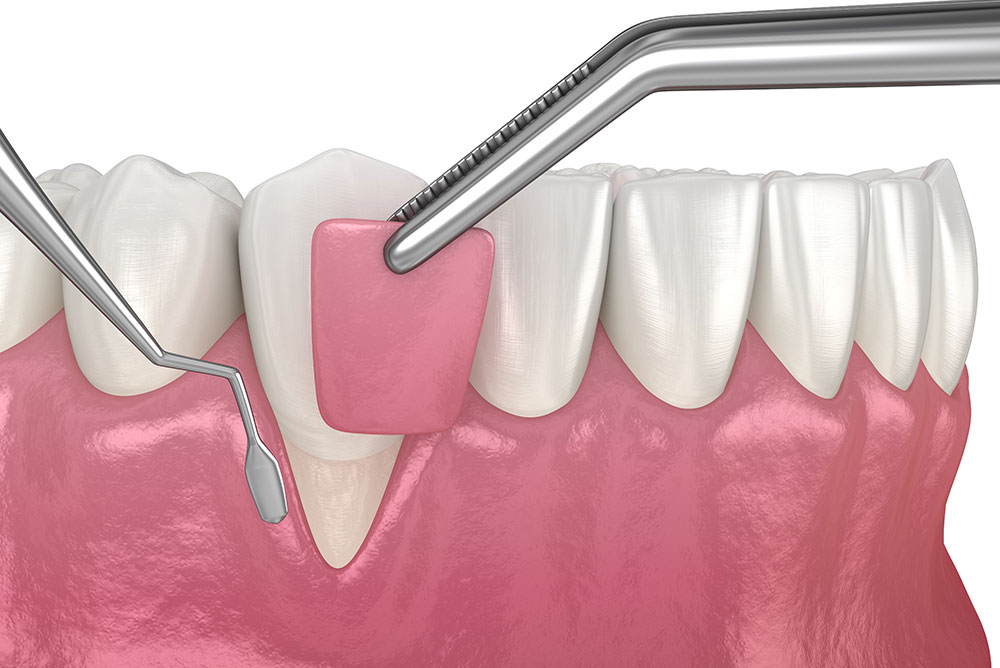 At Eastpoint Dental, we believe caring for your oral health rests on the three pillars of Prevent, Restore and Replace. This means thinking about your gum tissue as well as your teeth. There are some situations where your gum tissue might be a bit low, and we can help you by performing gum grafting.
Why Is a Gum Graft Needed?
Your dentist may recommend a gum craft because your gum tissue is receding. Maybe you have gingivitis, or perhaps you have periodontitis. Gum recession can expose the roots of your teeth, meaning they are more likely to decay. If your roots begin to decay, your teeth could fall out, which is a serious problem.
There are a few ways to fix this issue, and one option is to perform a gum graft, also called a gingival graft. This graft can be used to provide your teeth with the support they need. There are several different types of gum grafts, including gingival grafts, connective tissue grafts, and pedicle grafts. We will discuss the different choices with you to ensure we select the best option for your needs.
What Is the Procedure Like?
The exact nature of the procedure will depend on the type of graft you receive. We will escort you back to the procedure area on the day of the appointment. We will apply local anesthesia to numb the area before the procedure begins.
Then, we will remove a small piece of tissue from your mouth. It can come from different areas of your mouth, depending on the type of gum graft we are doing. Then, we will stitch the graft to the area with recession and make sure it is firmly locked in place.
The procedure does not take very long. Once we are finished sewing the graft into place, we will wash out your mouth with an antibacterial mouthwash. We will also discuss precautions you need to follow to protect the graft as it heals.
What Is the Recovery Process?
Once the procedure is done, you will be able to go home. We may observe you for a short time to ensure there are no issues with the graft. We will also give you several precautions to avoid damaging the graft as it heals.
Try to avoid eating anything that is exceptionally cold, hard, or hot. We may also give you a list of foods you should stick to during recovery. We may also discuss precautions you need to take regarding brushing or flossing during the first few days of the recovery process.
Skilled Oral Health Care With Our Dentist in Blacklick
Gum grafting can be a helpful way for you to protect your oral health, support your teeth, and guard your jaw. At Eastpoint Dental, we will keep you as comfortable as possible during this procedure, and we are here to answer any questions you might have. Contact us today to schedule an appointment with our team at (614) 755-2275.