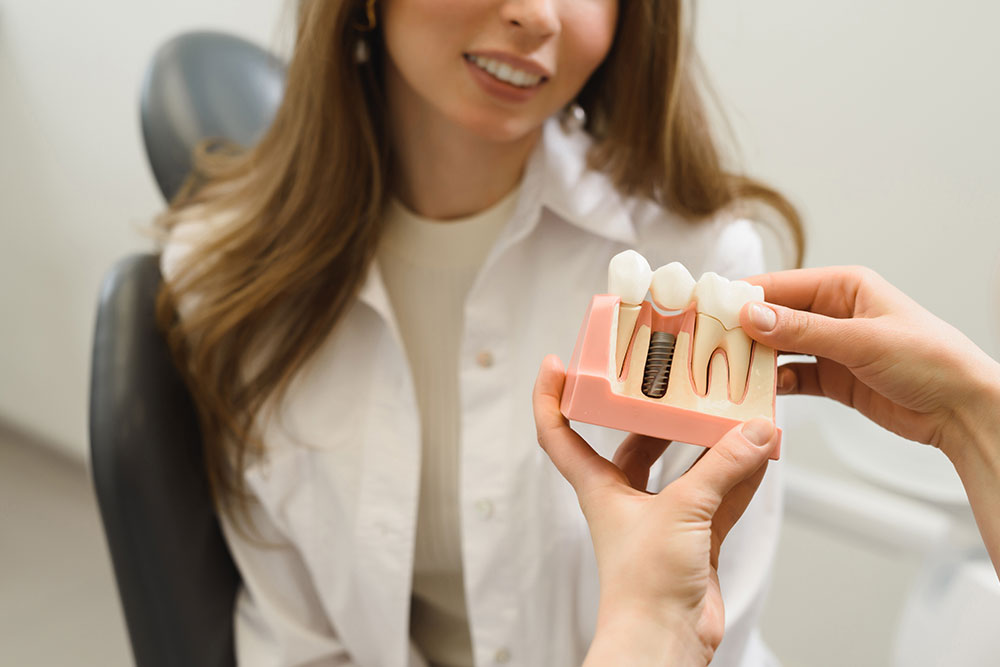 If you are looking for a way to replace one or more missing teeth, dental implants could be right for you. At Eastpoint Dental, we will customize your treatment options to create a smile you can be proud of. If you want a permanent replacement for missing teeth, you might want to go with dental implants.
Take a look at some important information regarding dental implants below, and reach out to us to make an appointment.
The Benefits of Dental Implants
Many patients prefer dental implants to other tooth replacement options because they look and feel completely natural. Dental implants are a permanent addition to your smile, so you will not need adhesive or clasps and will never experience embarrassing slippage.
Furthermore, dental implants can be a great option because you do not necessarily need to change your diet. Anything you can handle with your regular teeth, you can handle with dental implants.
All you need to do to take care of dental implants is brush them twice per day and floss them every day. You simply need to take care of your implant the same way you take care of your other teeth.
How Dental Implants Are Placed
Dental implants require several visits. To start, tiny titanium screws or posts are placed in your jaw, one for each missing tooth or a few posts to secure a denture, bridge, or partial. Depending on your individual needs, these posts may be placed here at Eastpoint Dental or by a dental surgeon. After this step, it will be important to give your mouth some time to heal. Your jaw has to join the post.
Dr. Kahan will oversee the entire process and mount the custom crowns or your prosthetic atop the posts to renew your smile and ability to chew with comfort and confidence. We will also ensure the shade of the crown matches the shade of the surrounding teeth. This will make it nearly impossible to see the implant with the naked eye.
The Recovery Process
Most of the recovery process will take place after the posts are implanted. You may feel sore for a few days, and the dentist will recommend that you follow a specific diet as your mouth heals. There will be a few follow-up visits to monitor the progress as the screw grafts to the jaw. You should expect to wait a few weeks between when the screw is placed and when the crown is placed. Most patients experience some mild soreness after the procedure, but it should not be anything significant.
Restore Your Smile With Dental Implants in Blacklick, OH
Dental implants can be an effective way to replace one or more missing teeth. If you are interested in dental implants, we will need to see if you are a viable candidate. Contact us today to make an appointment by calling (614) 755-2275. It would be our pleasure to help you find the right treatment option for a full smile restoration.