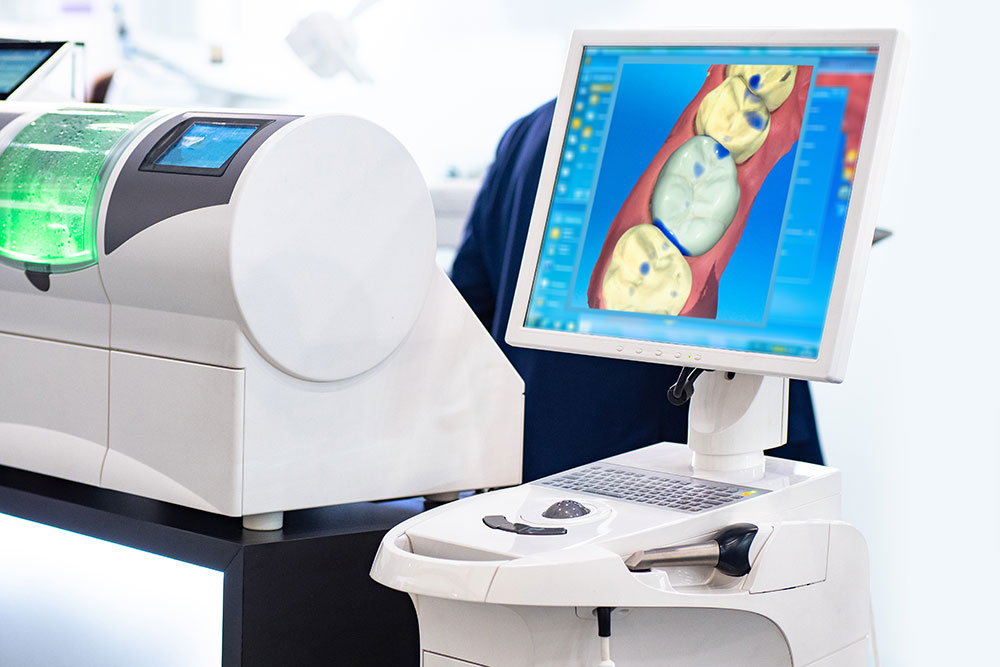 Eastpoint Dental strives to stay on top of the latest technological developments in our field because we want to provide you with the best possible care. That is why we offer CAM, which stands for computer-aided manufacturing, along with CAD, which stands for computer-aided design. Both of these tools are important for helping us to customize the treatment options we provide to you.
Learn more about both of these tools below, and contact us today to speak to a member of our team.
How Do We Use CAD and CAM?
There are numerous examples of ways that we use CAD and CAM. Typically, we use these tools when we construct oral appliances to address a specific problem with your dental care. That way, we ensure that the device we create fits your mouth perfectly.
For example, we may put this tool to use when we are constructing crowns. Or, we might use it to create porcelain restorations. We can also use this tool if we are manufacturing inlays and onlays.
What Are the Steps Involved?
When we are using this tool, there are several steps we follow. They include:
Preparation: First, we will prepare your mouth. We need to make sure our computers get a clear picture, so we will prepare the location before we take images.
Scan: Then, we will use an optical scanner to take a picture of your mouth. If a single tooth is involved, we will take a closer look at that specific tooth, customizing a 3D image.
Design: Our computer system will go to work, using the images we have taken to create the ideal oral appliance for your specific needs.
Manufacture: Once we have finalized our design, we will manufacture the crown, veneer, or other oral appliance to provide you with the oral appliance you need.
The exact steps we follow will vary depending on the type of device we are making for you, but we will keep you updated every step of the way. We want to provide you with the best results possible.
What Are the Top Benefits?
There are several significant benefits you will enjoy if we decide to use this technology to help you. They include:
We can save a significant amount of time. Instead of having to take Impressions and send them to a lab, we can expedite the process using computers.
You do not need to worry about holding your mouth open as we take an impression. Using computers is simply more comfortable for our patients.
Because there are fewer steps and people involved, the cost is significantly lower. We can help you save money.
For all these reasons, we enjoy using CAD and CAM technology to meet the needs of our patients.
Call Eastpoint Dental Today To Make an Appointment With Our Team
If you have questions or concerns about your oral health, we have the answers. In some situations, we may use CAD and CAM technology to improve your dental treatment outcome. If you would like to learn more about the options we have available to prevent dental issues, restore your smile, or replace missing teeth, contact us today at (614) 755-2275.