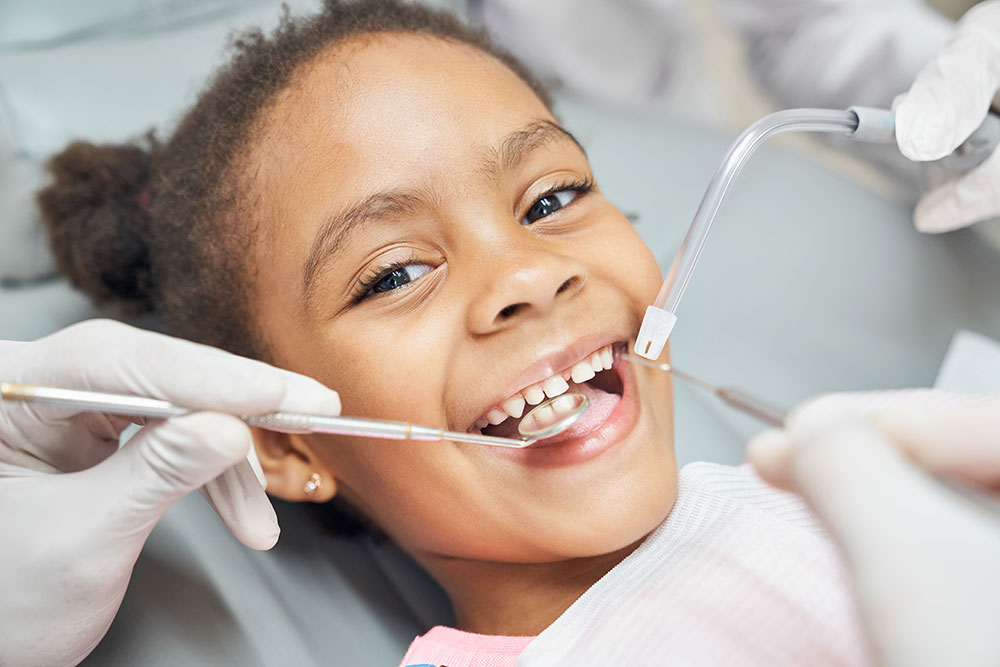 It is important for parents to teach their children to take care of their teeth. This means brushing twice per day, flossing every day, and going to the dentist twice per year. At Eastpoint Dental, it would be our pleasure to help you take care of your child's teeth.
We know that many children are nervous when they go to the dentist, which is why we have a fun, comfortable, and stress-free environment that is perfect for patients of all ages. We would love to set your child up for good oral health for life.
When Is It Time for the First Appointment?
In general, you should bring your child to our office as soon as the first tooth erupts. If you notice that your child is chewing on various items more frequently, this is a sign that the first tooth might be coming in soon. You should expect the first tooth to arrive around the same time as your child's first birthday.
There are some situations where you might need to schedule your first appointment a bit earlier. Some of the signs that could indicate the dental visit is a bit more urgent include:
You noticed that your child has teeth that are coming in with stains on them already.
Your child sleeps with a bottle or cup at night.
Your child has been diagnosed with Down Syndrome.
If any of these issues describe your child, you should reach out to us as soon as possible. They are important for providing your child with the care that he or she deserves.
What Happens During the Visit?
During the first visit, we will do everything possible to keep your child comfortable. We understand that young children are very nervous around people they don't know, and we have several tools and techniques we can use to make your child more comfortable.
The earlier you bring your child to the dentist, the better. When children are exposed to the dentist from a young age, they get used to the environment. It will be easier to clean your child's teeth, even during the stranger danger years.
We have designed our office to make it comfortable for young children. We have a variety of toys that can help kids relax and entertain them during the visit. We will take our time, making sure we provide your child with the appropriate dental care while also communicating with your child to keep him or her comfortable.
How To Care for Your Child's Teeth
It is important for you to take care of your child's teeth at home as well. During the toddler years, you should wipe down your child's teeth with a washcloth. Once your child has the necessary motor skills, you should teach him or her to brush his or her teeth with a soft-bristle toothbrush.
Even though fluoride is important, we recommend staying away from a fluoride toothpaste until your child knows to spit out the toothpaste. Once your child has developed this skill, you can switch to a fluoride toothpaste.
Pediatric Dental Care in Blacklick, Ohio
It is critically important for you to take care of your child's teeth, which means taking them to the dentist twice per year. At Eastpoint Dental, we would be honored to help you take care of your child's teeth. Contact us today to make an appointment at (614) 755-2275.